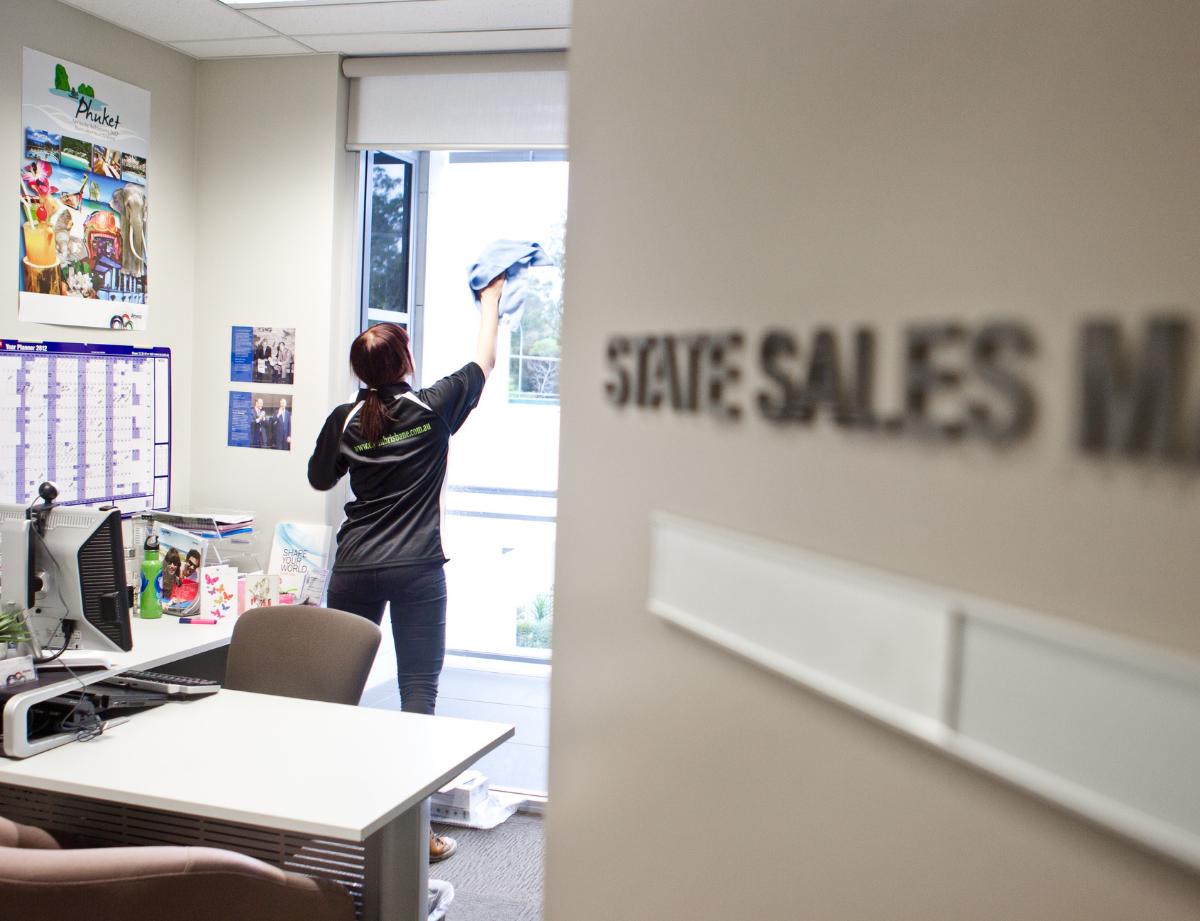 05 Jun

Corporate Cleaning Services in Brisbane face some Unique Challenges

We've been in the corporate cleaning game for a long time. We've worked with a huge range of clients, both big and small, and we've had our fair share of interesting experiences along the way. It's not just keeping the place spick and span – a lot of our corporate cleaning clients rely on us to help their business perform at its best, and we often find ourselves dealing with challenges that are going all out to prevent us doing our job.

Of course, it's all part of the gig. In corporate cleaning services, sometimes you've got to go the extra mile to overcome a few obstacles standing in your way. There are a few common issues that crop up all too often, and we've listed some here. If you're working in the corporate cleaning world, you'll be familiar with a lot of these. If you're thinking of making the career shift, maybe this will help give you an idea of what you're in for.

The huge range of premises and clients

There simply isn't one-size-fits-all in this job. Every night (or daytime, depending on when the client wants us in there), we have to clean the premises of a huge range of businesses. Each of these has different requirements and different facilities. So, when we roll out to go through a list of jobs, we need to make sure we have the right gear for all of them.

It doesn't take long for this huge array of gear to really add up. Our vans can only carry so much, and pretty soon we find ourselves improvising or being packed in like sardines with equipment. Of course, it's often easier for the specialist teams. Their equipment, like concrete cleaning gear or carpet cleaning equipment, comes with its own vehicle, so they've got it easy.

Corporate cleaning in all weather conditions

Brisbane is, generally speaking, a pretty comfortable city to live in. However, sometimes it can really kick off out there, and that's when our Brisbane corporate cleaning teams tend to suffer.

Whether it's unending rain that is starting to flood the roads, chill winds that won't give up or absolutely scorching hot days, Brisbane always has something different to throw at us. The fact is, the job has to get done. We're in one of those jobs that people never notice – until we stop doing the job. So rain, hail, or shine, we get out there and do the work.

Traffic never works in our favour

You would think, working in a career that's usually active when everyone else is sleeping, we would have a great time of it in traffic. However, it seems like as soon as the sun goes down, Brisbane's traffic lights turn against us. We can be driving between jobs at 4am and get stuck at every single set of lights the length of Gympie Road. It can get very old, very quickly.

Getting a feed

Brisbane is a lovely city and a beautiful place to live. However, it certainly has a strict bed time. Once the sun has been down for a few hours, it becomes almost impossible to find a decent feed that's reasonably priced in the inner suburbs, where a lot of our work in corporate cleaning in Brisbane is based.

Most of us will take our "lunch" with us out on the job. It saves us from choosing from the same three or four fast food locations every night on the job, plus it saves time – and while those traffic lights are going against us between each job, we need to save all the time we can.

Accessibility to locations

With our longer-term clients, gaining access to a business premises is not usually a major challenge. However, sometimes we'll carry out corporate cleaning services in Brisbane for clients on a one-off basis, or we'll deal with clients who have strict access rules.

There is nothing worse than showing up to a job and having to wait around for half an hour while someone sorts out access for you. Even worse is when you've organised well ahead of time and they show late.

Another challenge with accessibility we often face is simply getting into some areas of older buildings, or dealing with the cleaning challenges of some of our unique corporate cleaning clients. Sometimes well get to a job and wish we had a scissor-lift, or a drone.

Need a team that won't quit?

We've been performing corporate cleaning services in Brisbane for decades. There is over a century of cleaning experience across all members of our team, and as a family business, we have the kind of knowledge that can only be accumulated across generations.